PRODUCTION
Producers, reporters, production assistants available for local, national, or international projects. One person crews or two.
EQUIPMENT
BETACAM SP / DVCAM
Sony D30 with fine broadcast lens and Betacam or DVCAM backs
Sennheiser & Tram Mics.
Vinten fluid head tripod.
Anton Bauer Batteries, Charger / AC

DVCAM
Sony PD 150 DVCAM camera package
Sachtler Fluid head tripod
Extra Batteries
Wide Angle adaptor

HDCAM PACKAGE
Sony 700a High Definition Camera
Matte box and 4x4 glass filters
Vinten fluid head tripod.
Anton Bauer Batteries, Charger / AC

MONITORS
Sony 8" SD monitor.
9" HD Monitor
Wireless video transmitter and hand-held Casio Monitor.

AUDIO
Mics: Lectrosonics 210 wireless, Sennheiser 416 and M80 shotguns, Tram and Sony 77 lavalieres.
Shure FP 33, FP 32 mixers.

LIGHTING
Three complete Lowell light kits with Lowell Fresnel, DP, Omni, Chimera, etc.

SUITCASE DOLLY
CASES
Soft cases for local shoots
Hard cases for hard travel.

GLIDECAM
A new addition to the family, the Glidecam V20, allows smooth Steadicam moves with and around subjects. The rig includes a Betacam, wireless mics, and a video transmitter and monitor so that finally the producer can seen what is being shot real time.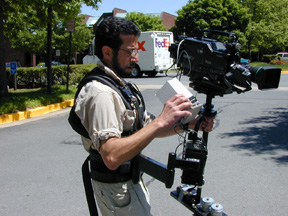 Call Jack at 703 356-9427, Cell phone 703 477-0035.